Get Ready Class, Joke-Ha-Thon is Back!
We're extremely excited for the triumphant return of the comedic geniuses of a generation (maybe not our generation)—your elementary school class! That's right, Red Nose Day's Joke-Ha-Thon is returning for the second year!
In case you haven't heard, Joke-Ha-Thon is a fundraiser where students sell and tell their best jokes to spread some laughs and raise some life-changing cash. It's a great way to get your class writing jokes and flexing their comedy muscles, all while raising money to help kids who need it most. It's what we in the comedy business call a win/win for children.
Try not to shoot milk out of your nose while you watch how these students participated last year.
And the best part? Your classroom donations will be doubled thanks to Hasbro! Hasbro will match all donations up to $50,000 for all Red Nose Day in School Fundraising.
So, with Joke-Ha-Thon making a comeback in 2020, we want to make sure you have all the tools you need to help your students laugh and learn. So, let's get started! 🎉
"I would love to participate in JokeHaThon, but where do I even begin?" Great question, we're so glad you asked!
Between April Fool's Day and Red Nose Day, we're inviting students to sell and tell their best jokes to raise money to help kids who need it most.
Learn more about how to get started
"Are there materials I can use to help set up the perfect Joke-Ha-Thon Fundraiser?" You bet your Red Nose there are!
Our lesson plans are chock full of information that teaches joke structure and comedy writing. Once your students have their degree in hilarity, they can set up a joke stand or hold an assembly where kids can donate a dollar for a spot. Students bring their A-material and make each other laugh all while turning punchlines into lifelines for kids in need.
"This seems so easy...is there any way we could potentially mess it up?" Not when you have Kate McKinnon providing some of how to set your very own Joke-Ha-Thon!
"This is all so great! How have other schools and teachers participated?"
Of course. We couldn't have done it last year without the support of our great community of educators who bring Red Nose Day into their classroom and impact the lives of children around the world.
Here's what a few of our teachers had to say about participating in Joke-Ha-Thon.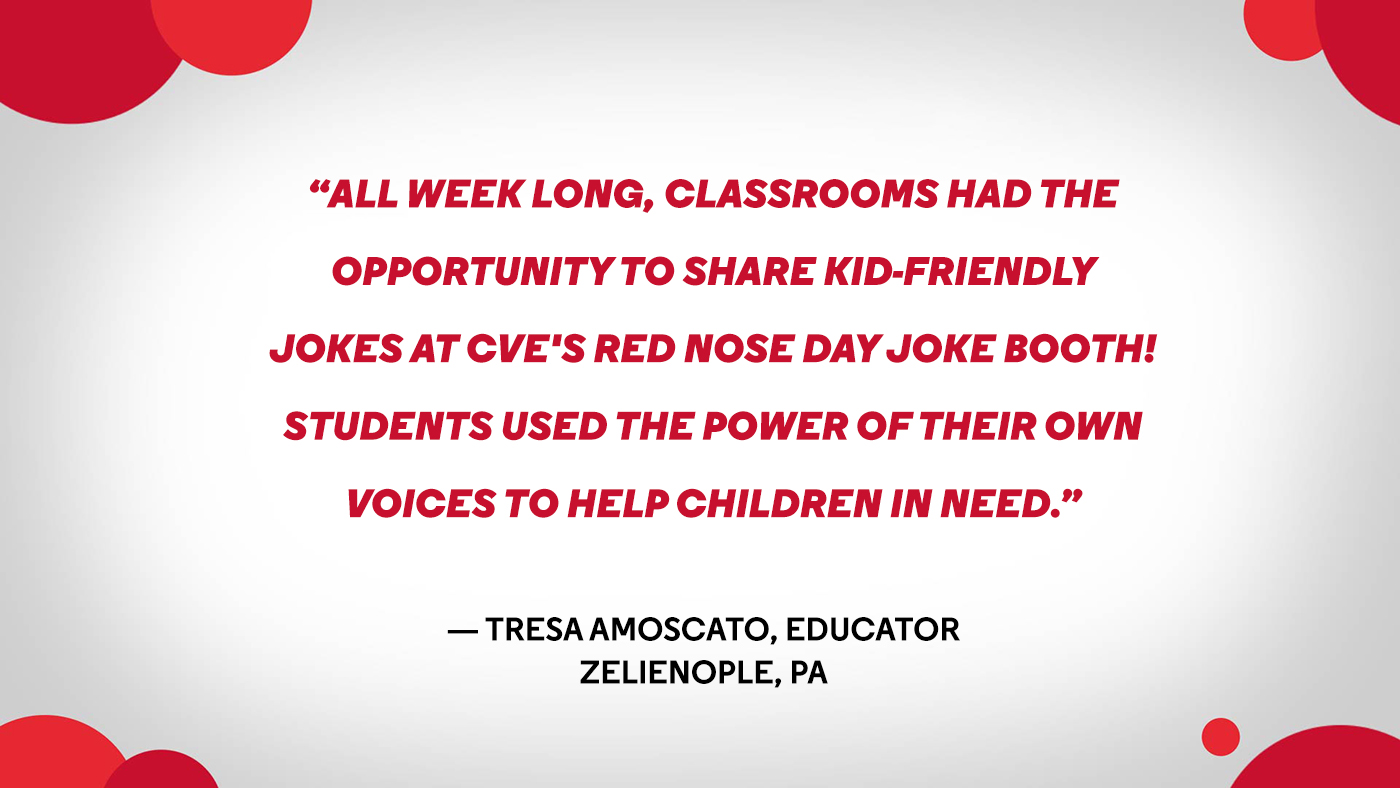 So, what are you waiting for? Join in on the fun by participating in Joke-Ha-Thon! Together, we can end child poverty one joke, and one nose, at a time.