Every Day Is Red Nose Day: Here's Why
Join The Sandbox and make an everyday commitment to ending child poverty
Amazing things happen when we come together. This year for Red Nose Day, millions of people across the country came together to donate, fundraise and raise awareness, and we were blown away.
We're working swiftly to ensure your donations reach our partners working on the frontlines: providing healthy meals, life-saving medicine, access to education, and many more of the essentials children need to thrive.
But as long as there are children living in poverty and facing inequity, every day is Red Nose Day — and we need your continued support. We know that changing the story for children doesn't happen overnight. It takes time, and it's going to take all of us. That's why we created:
The Sandbox is Red Nose Day's growing community of monthly donors dedicated to building opportunities and solutions for children to thrive – every single day, and all year long.


Why give monthly?
When we all chip in and give a little each month, it adds up to big change. Over the course of a year, your combined support helps our partners on the frontlines continue to address the immediate needs of children facing poverty, and foster change that can last a lifetime.
Every day, each month, and all year long Red Nose Day programs are there for children in need. So even when the unpredictable happens, like the crisis of COVID-19, your ongoing support ensures that our partners can continue providing services for vulnerable children and communities.
See how supporting Red Nose Day through a small gift each month helps achieve long-term solutions and life-changing results for children and communities in need:
Meet Pam, a nurse in Nevada
It's amazing how much can happen in just a year. We first met Pam Douglass back in 2019. Pam is a nurse in Nevada where the child poverty rate is 22% and on the rise. What makes her special is that she spends her days treating children on a mobile health clinic for a program supported by The Children's Health Fund and Red Nose Day.
On a fully outfitted "doctor's office on wheels", Pam sees over 150 patients a month. Her advice and treatment mean so much for children and families in her community, and in some cases can be life-saving. This kind of care is vital for children and young people who may otherwise go without these services due to the systemic inequities that exacerbate poverty and barriers to health and wellbeing.
This year, on the Red Nose Day Special on NBC, we saw firsthand how Pam and these incredible mobile clinics across the U.S. are still going strong.
Right now, in the midst of the unprecedented crisis of COVID-19, Nurse Pam's work is more important than ever. Thanks to this program made possible by Red Nose Day and sustained support from members of The Sandbox, heroes like Pam are able to continue the critical work of providing quality healthcare for low-income children.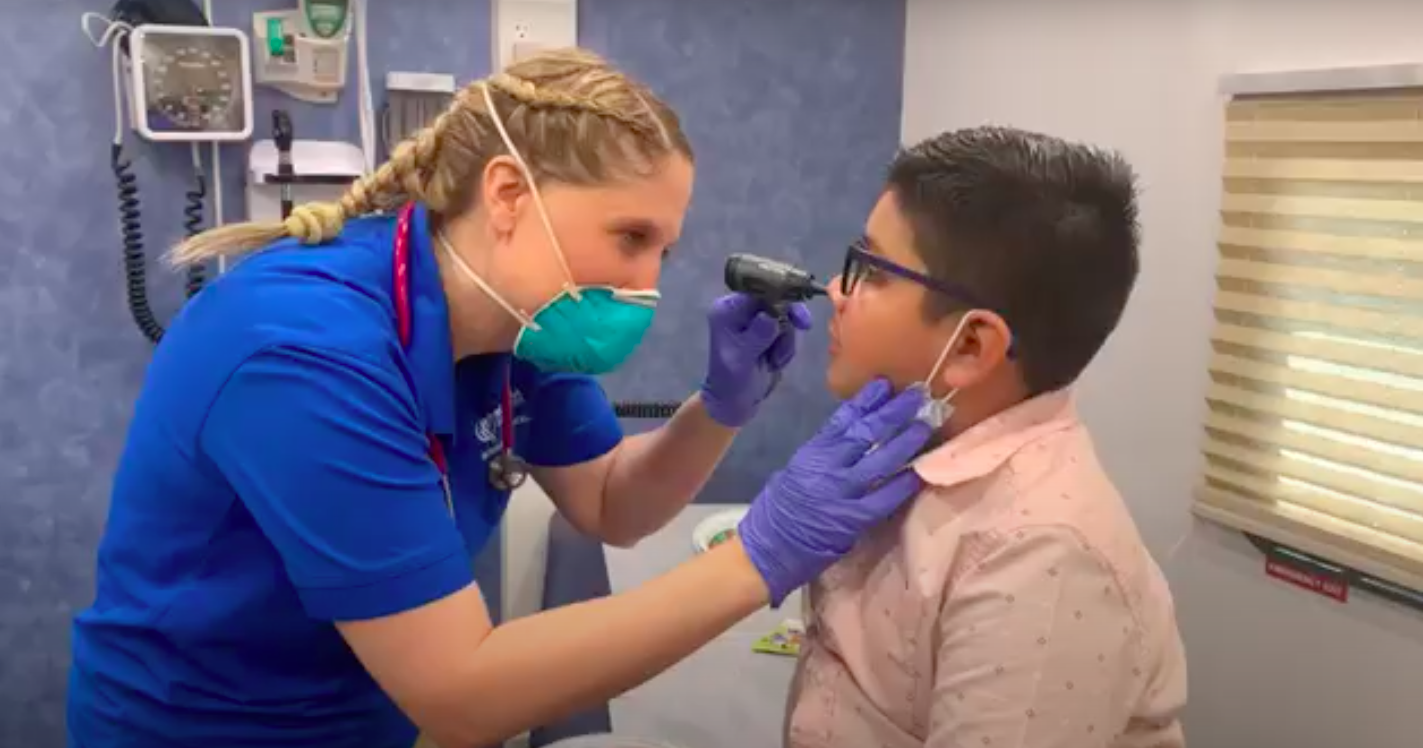 You can help even more children in need access programs like this one by becoming a monthly donor and a member of The Sandbox.
Monthly donors are a critical part of the engine that powers Red Nose Day, helping us achieve real, life-changing results all year long. In the U.S. and globally, programs like this have helped provide greater access to basic health services to over 19 million children.
Meet Felix, a young man in Uganda
If you've been following Red Nose Day for a while, you may remember when comedian and good friend of Red Nose Day, Jack Black met Felix, a street-connected child in Uganda. What Felix yearned for more than anything was to go to school.
But without shelter, a family, and resources to get by, his story shows us how difficult it is for young people facing homelessness to survive -- let alone to thrive.
Like so many children experiencing poverty, Felix is more than his circumstances. He is resilient, smart, and full of potential.
In the years since Jack Black's visit in 2015, Felix's story has changed for the better. Thanks to a program made possible through Red Nose Day and our partner, ReTrak, Felix is now living safely off the streets, with a loving foster family. Best of all, he's been able to get the education he never thought was possible. Felix is now pursuing a career in construction and training in business skills. He's come so far in just 5 years and has the support he needs to plan for the future.
In the U.S. and around the world, Red Nose Day programs like the one that helped Felix have helped over 100,000 street-connected and homeless youth recover, cope and thrive.
As long as there are children facing poverty and inequity, every day is Red Nose Day. A monthly gift supports Red Nose Day's partners all year round and sustains programs like the one employing heroes like Pam Douglass and empowering children like Felix.
Right now, children around the globe are facing the devastating effects of the COVID-19 pandemic, so if you've ever considered making a monthly commitment, now is the time to act by becoming a member of The Sandbox.
Give Monthly, Change Lives Daily
Make an everyday commitment to lifting children out of poverty. The impact of the COVID-19 crisis threatens children living in poverty in an unprecedented way. A recurring gift to Red Nose Day supports our efforts to keep children safe, healthy, and educated all year long.