7 Gifts That Give Back This Holiday Season
Ah, the holidays. Tis the season for celebration, reflection, and of course: gift-giving. And while we're all for getting your loved ones the perfect gift, we also think the holidays are the perfect time to give back.
Now here's the good news: there's no reason to choose between the two! We did the research for you and put together this list of gifts that give back. From jewelry that provides jobs to the homeless in Los Angeles, to stylish backpacks that are good for the environment, we've selected seven items that should satisfy everyone on your list.
P.S. We also chose companies with ethical, sustainable practices that are doing more than their part to make the world a better place.
Happy Shopping!
The Nano Puff Jacket from Patagonia
The sun/shade line on pitch 13 is reason enough to bring along the Nano Puff® Jacket. As a sleek micro-belay parka on chilly rock routes or as an insulated jacket during alpine squalls, it traps your heat and blocks the wind.
About this product: Warm, windproof, and water-resistant. These are the qualities you need in the perfect winter jacket and The Nano Puff Jacket has all of them. BONUS: it's also incredibly lightweight! It's made with 60-g PrimaLoft® Gold Insulation Eco with 55% post consumer recycled content, wrapped in 100% recycled polyester shell and liner.
Why We Love It: Want to look stylish while bundled up for the winter season AND save the planet? Patagonia has got you covered. As a leader in ethical and sustainable practices, all of Patagonia's products are fair trade certified, they promote fair labor practices, safe working conditions, and environmental responsibility throughout their supply chain. Additionally, 1% of sales support environmental organizations, funding at the grassroots level in countries and communities around the world.
Learn more about the jacket and the amazing way Patagonia gives back here.
Grounds for Change's Coffee of the Month Club
Coffee Explorer, our Coffee of the Month Club, provides you with two (2) fresh 12 ounce bags of a different fair trade organic coffee each month for your chosen time period - our price includes free shipping! Your Coffee of the Month subscription will feature both single-origin and blended coffees throughout the year.
About this product: What do you get the coffee lover in your life who has everything from personalized mugs to fancy brewing machines? A monthly coffee subscription of course! Grounds for Change's Coffee of the Month Club provides fresh multiple 12 ounce bags of different fair trade organic coffee each month. What makes this product really cool is that you get to survey the wide variety of tastes from all around the world!
Why We Love It: Family-owned and operated outside of Seattle, WA, Grounds for Change's Coffee is 100% fair trade, organic, and roasted in small batches. Additionally, the coffee is Carbon-Free Certified, which means that the carbon footprint (from crop to cup) is offset with tree planting. Which means this coffee is good for the environment!
Learn more about the product and the good they do.
The Classic Key Necklace from The Giving Keys
Shop the Classic Key Necklace at The Giving Keys. We employ people transitioning out of homelessness. Our keys are hand stamped with love in LA. Choose from one of our inspirational words or customize your necklace for a personalized key necklace hand made just for you.
About this product: Here's the key to unlocking your love's heart this holiday season. The Classic Key Necklace from the Giving Keys allows you to stamp an inspirational or meaningful word on a key. What's great about this product is that the keys are made from recycled products and are each unique.
Why We Love It: Your purchase can unlock doors of opportunities to those who need it most. The Giving Keys employs those transitioning out of homelessness in the Los Angeles area, providing them with an income, benefits, opportunities for growth, and pride in the work they do. For every 5 units sold, 1 hour of work is created for the team, who are hand-stamping, assembling, and packing products in Downtown LA.
You can learn more about the product and The Giving Keys here.
Travel Backpack from Tom Bihn
Lifetime Guarantee You can expect your TOM BIHN bag to give you years of hard service. Our bags are guaranteed to be free from defects in materials and workmanship for the life of the bag. That means if something goes wrong and it's our fault, we'll fix it at no charge.
About this product: Traveling can be difficult, especially when you don't have the right gear. But that's not a problem when you got a backpack from Tom Bihn on your side (or back, depending on how you hold the bag 😉). The Synapse 25 is one of the best-organized backpack designed to be used for all types of traveling -- everything from hiking adventures to everyday travel.
Why We Love It: Tom Bihn is another sustainable and ethical champion, ensuring their entire supply chain meets their standards. All items are made in the USA in their Seattle facility, where all of the company's employees work too. All fabric is ethically sourced from Korea, Japan, and the USA, and 80% of the materials used are bluesign and/or OEKO-TEX certified. This means they are free of harmful chemicals (good for the environment) and are safe for use (good for humans, too!). The company also gives 1% of the proceeds to "One Percent for the Planet" whose mission is to build, support, and activate an alliance of businesses committed to creating a healthy planet.
You can learn more about Tom Bihn and the Synapse 25.
The Best Seller Gift Box from Alter Eco
Our Best Seller Gift Box is perfect for the chocolate lover who likes a little bit of everything. This box features our top selling organic chocolate bars, truffles and new dark chocolate coconut clusters. Better yet, this gift is restoring the rainforest!
About this product: This box of swiss-made dark chocolate is perfect for the chocolate lover who likes a little bit of everything. It features the company's top selling organic chocolate bars and truffles, all made with clean, ethical ingredients. And for each gift box sold, Alter Eco will plant one tree in the Peruvian Amazon, where their fair trade farmers grow organic cacao.
Why We Love It: Alter Eco is all about full-circle sustainability: from finding clean ingredients, to investing in farmers, planting trees to regenerate the earth, and eliminating waste with their compostable packaging. Their tree-planting operation and sustainable practices make them a carbon negative business, and their certified fair trade!
You can learn more about the company and their products here.
Socks from Conscious Step
Our Men's Basics Gift Box got an update! Featuring 3 new pairs of socks, each gift box provides 3 meals through Action Against Hunger, 18 months of safe water through Water.org and 1 book through Room to Read. It provides the basics, but this gift box is anything but basic!
About this product: Each design is created with a different sole purpose (get it? Too much?) which include fighting hunger, providing hunger, educating children, and much more! These socks are organic, vegan, fair trade certified - and we hear they're pretty comfy too.
Why We Love It: Each pair of socks purchased from Conscious Step equals a donation to a charity partner related to the design and cause. So not only can you pick the perfect pair - but you can pick the perfect charity that goes with it. Conscious Step sustainably sources their materials - from the organic, fair-trade cotton in their socks to the recycled paper used for tags and boxes.
Learn more about Conscious Step and their products here.
Poptivisim: Red Nose Day PopSockets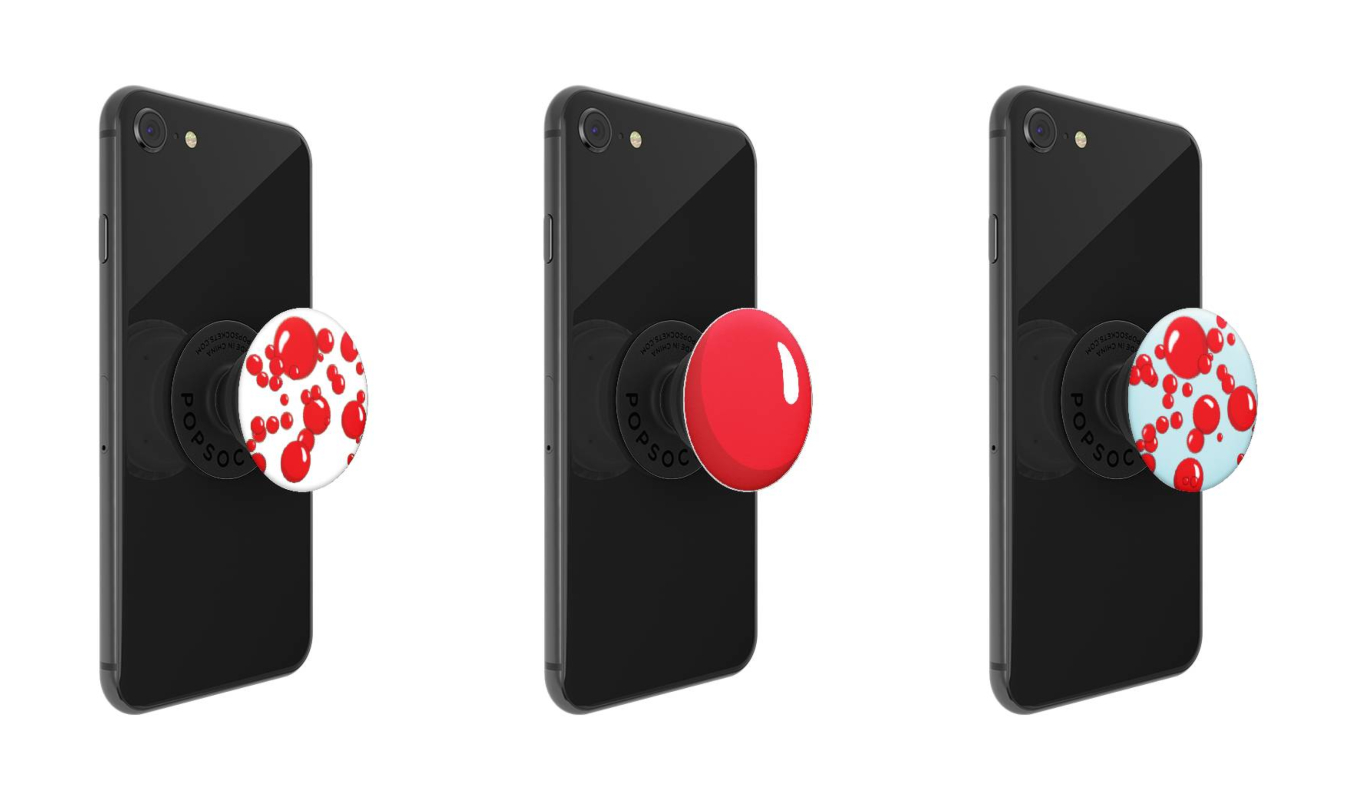 About this product: We've partnered with PopSockets to create the perfect Red Nose Day design. Starting now, you'll have 3 exclusive designs you can choose from. Whether you decide to rock the regular Red Nose or raining noses design, PopSockets will donate 50% of the purchase price.
But it doesn't end there! If you purchase yours on Giving Tuesday (December 3), PopSockets will donate 100% of the proceeds to Red Nose Day, that's $15 that could provide health education materials to five new moms.
Why We Love It: PopSocket's Poptivism initiative is changing the way nonprofits, for-profits and people work together to make the world better. It's activism at your fingertips! With your support, we can come together to help end child poverty one nose, and PopSocket, at a time.