What Summer in America Looks Like for 31.8 Million Kids
How Your Red Nose Day Funding Helps Kids Throughout the Summer
By Beth @ Red Nose Day
With the Fourth of July behind us and another summer in full swing, I've been reminiscing about the carefree summers I spent in San Diego as a kid. I remember days spent at the pool or the beach, family picnics at the park, the smell of sunscreen and a warm breeze. 
Many American children experience the same freedom over the summer – hours under the endless sun playing with friends and exploring. But for many children in poor or low-income communities, the summer can be quite the opposite: months characterized by hunger, uncertainty, and loneliness.
According to the National Center for Children in Poverty [NCCP], up to 43% of children in the United States live in low-income families, and one in five children live in a poor family.* And during the summer, these children may have much more to worry about than just being a kid.
With schools closed, many children have no safe place to go. If they rely on school lunches, they may not know where their next meal is coming from. And for low-income children, lack of access to stimulation and learning opportunities during the break -- from summer camp to basic reading materials -- can mean "summer slide": a significant loss of learning, and falling behind their more affluent peers. In fact, more than half of the achievement gap between lower- and higher-income youth can be explained by unequal access to summer learning opportunities.
Among the numerous programs for children that Red Nose Day helps to fund here in the United States, many are focused on combatting issues that are crucial to kids in need during the summertime. While the issue of poverty is incredibly complex, effective programing can help combat the acute symptoms of being poor in the summer -- not only helping to make summer better for these children, but often helping to change long-term outcomes for their futures.
Here are just a few ways your donations have been helping kids this summer:
Providing a summer food service program with free meals and snacks to low income children in all 50 states
According to Feeding America, about 18 million children lose access to free school meals during the summer. Food-insecure families who are not eligible for government assistance are forced to make impossible decisions, such as whether to pay the electricity bill or feed their kids.
Red Nose Day donations help fund Feeding America's Summer Food Service Program, which provides free meals and snacks for kids in need throughout the summer.
Helping combat "Summer Slide" by offering educational programs that keep kids' minds sharp, as well as offer a safe place to go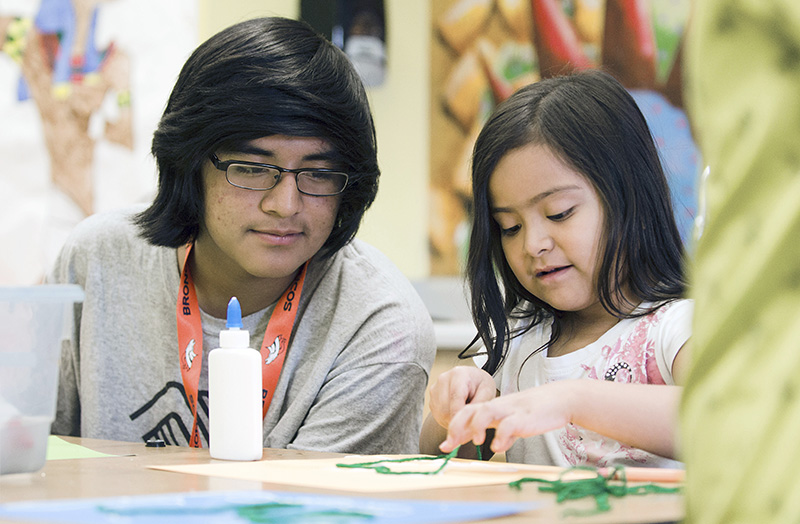 During the summertime, low-income students can lose 20 percent or more of their previous year's learning, a phenomenon known as 'summer slide.' In comparison, their more affluent peers experience slight gains. This can stack up year over year, causing low-income children to fall further and further behind, ultimately endangering their chances of high school graduation.
Through our partner Boys & Girls Clubs of America, Red Nose Day helps fund the Summer Brain Gain program, a 10-week summer camp experience designed to help combat summer learning loss, sharpen academic skills, and engage students in a fun way. Red Nose Day funding targets Boys & Girls Clubs in communities with high rates of poverty across the United States, with a special focus on Native American communities.
Beyond education, the Summer Brain Gain program also provides a safe, supervised space for kids during the summer months, and nutritious food they might otherwise go without.
Offer homeless children a safe place to stay and an opportunity change their lives
Homelessness among families peaks during the summer, often as families vacate unfavorable living situations. They may have been "doubled up" living with another family, or staying in unacceptable living situations to maintain stability during the school year.
Red Nose Day partner Covenant House reports that more than two million children in America face a period of homelessness every year. For homeless youth, summertime means no stable food, no daily support and no cool shelter.
Red Nose Day donations help support Covenant House across the United States, where they offer homeless, trafficked and runaway youth a holistic range of services and an opportunity to change the course of their lives –  from medical care and nutritious food to job placement services and long-term housing support.
As you can see, your contributions to Red Nose Day have been hard at work this summer. Thank you for the difference you've made to ensure children in need are safe, healthy, educated -- whatever time of the year.
To learn more about the impact you're making, head here.
Thanks for reading,
Beth
*NCCP defines low income is defined as at or above 200% of the federal poverty threshold (FPT), poor is defined as below 100% of FPT, and near poor is between 100% and 199% of the FPT. The low-income category includes both the poor and the near poor.
Get on the list. Sign up for updates.
Don't Miss Out!
Sign up for the latest Red Nose Day news and updates.