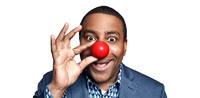 IT'S OFFICIALLY RED NOSE DAY!
Today is the day, guys! Red Nose Day is officially here.
Today, millions of you all around the country are coming together to change the lives of children facing poverty. And as the effects of COVID-19 pose an unprecedented threat for the most vulnerable children, we believe this Red Nose Day might be our most important one yet.
So donate, share your digital Red Nose on social media, and tune-in to NBC at 8/7c. The more ways you get involved, the bigger impact we'll make.
OK. Let's take a look at what we've got going on today:
The Special Night for Red Nose Day is BACK on NBC
The fun kicks off on NBC at 8/7c with a spectacularly over-the-top "Celebrity Escape Room," featuring Ben Stiller, Jack Black, Courteney Cox, Lisa Kudrow, and Adam Scott. Watch as they decipher clues, solve puzzles, and brainstorm solutions to escape before time runs out. Each room they complete raises more money, so we'll be watching in anxious anticipation to see what happens.
Following "Celebrity Escape Room," tune-in at 9/8c for the sixth-annual "Red Nose Day Special." The TWO HOUR Special brings together an incredible lineup for a night of music, comedy, and stories of the children that you're helping by supporting Red Nose Day. It's going to be… legendary.
The night will feature amazing musical performances from John Legend, Kelly Clarkson, Blake Shelton, Gwen Stefani, OneRepublic, Ellie Goulding, Steve Martin and more. Seriously. So many more!
And you'll have to tune-in to find out.
Of course, it wouldn't be Red Nose Day without some comedy. Expect some laughs from Jim Gaffigan, Tony Hale, Ray Romano, Ricky Gervias, Sarah Silverman, and Lily Singh.
Trust us, you don't want to miss it.
But wait, there's more!
The night will be hosted by Mandy Moore and Justin Hartley. THE stars of NBC's "This Is Us." We cannot CONTAIN our excitement.
We're not biased or anything, so trust us: this will literally be the best night of television all year. All you need is your digital Red Nose in hand and your feet up to get into the spirit of Red Nose Day. OK, we'd like it if you opened your wallet for children in need, too.
Remember, we're watching…
Join Us on TikTok
And since you've got your digital Red Nose and you're ready to tune-in, now you can support Red Nose Day on the latest craze to hit the social media landscape. That's right: we're on TikTok.
TikTok has created a special filter to celebrate Red Nose Day, and for every video posted May 19 through May 21 using the filter and the hashtag #RedNoseDay, TikTok will donate $2 for children in need, up to $100,000.
What should you post? Well, whatever you want! Tell a joke. Do arts and crafts. Create your own comedy sketch. Or simply smile knowing your video is making an impact for children living in poverty. Just take a cue from Meghan Trainor:
Thanks to our friends at eBay, your donations could earn you some incredible prizes
We've teamed up with eBay for Charity to open up the Red Nose Day shop, where you can bid on unique items and priceless experiences, all to help children in need.
Whether you're dreaming of a wedding encounter with Hugh Grant, want to strut your stuff at fashion week with Christian Sirano, or you're in need of a love-letter written by acclaimed romantic comedy writer (and, cough, cough, co-founder of Red Nose Day) Richard Curtis, the Red Nose Day shop on eBay has something for everyone.
And the best part? 100% of the proceeds from all winning bids go directly to Red Nose Day. So when you win, children win the most.
So get ready for a full day of Red Nose excitement, all for an incredible cause. We're on a mission to end child poverty, and every time you show your support (and share your digital Red Nose), you're part of that mission.
You're part of something that's huge, important... and growing!
#NosesOn, America