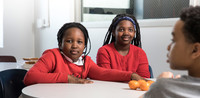 What Your Donation to The Full Plate Project Brings to the Table
The Full Plate Project by Red Nose Day was created as a part of our commitment to keeping children safe, healthy, educated, and empowered. As we work with our partners to keep our commitment to children in the US and around the world, we are proud to share how your contributions are benefiting the children who need our help the most.
Full Plate Project partners include Boys and Girls Clubs of America, Action Against Hunger, the Ali Forney Center, The Chicago Community Trust, and Social Bite. The programs funded by the Full Plate Project go beyond providing meals. Your donations help address the long-term needs of children and young people through programs that treat malnutrition and foster food systems that can help create long-term change in the life of a child.
Who your donation helps
Your gift supports children here in the US and abroad, providing them with nourishing meals, tools to detect and treat malnutrition and empower pregnant women and mothers to improve their own nutrition to ensure their children are well-nourished and can thrive. Here in the United States, efforts are focused on some of the largest cities nationwide, bringing relief to many of the country's most vulnerable populations. We're also working in Tanzania, where one in three children under five faces chronic malnutrition, which can limit the development of the brain and body.
Our partners at the Boys & Girls Clubs of America have been providing support to young people throughout the United States since 1860. The Full Plate Project by Red Nose Day is partnering with them on localized efforts in Albany, GA, Minneapolis, MN, and Philadelphia, PA, to make sure children and families have holiday meals, creating a sense of community during this time of uncertainty.
 
$10 can give a child two weeks of healthy, nutritious snacks.

Action Against Hunger is on the frontlines helping children in Tanzania who are malnourished. Through funding from The Full Plate Project by Red Nose Day, Action Against Hunger is providing necessary medical support and care in clinics and communities and educational resources for mothers and families, targeting three rural areas to improve maternal and child nutrition for more than 3,000 children.
Based in New York City, the Ali Forney Center is the largest agency for homeless LGBTQ youth in the country. By the time they reach the Ali Forney Center, young people have often been living on the streets without nutritious food, much less a support network or a family to celebrate the holidays with. In partnership with The Full Plate Project, the Ali Forney Center will provide approximately 2,000 young people throughout New York City with warm and nutritious meals during November and December, brightening their days during a difficult time.
 
$40 can give a holiday meal for a family this year.

Continuing The Full Plate Project's efforts into the new year, Social Bite will be partnering with Ali Forney Center as well as Breaking Ground are providing free nutritious meals to homeless children and their families starting in 2021. Additionally, their programs will be providing quality meals on a weekly basis, supporting these families so they can help them break the cycle of homelessness.
Over in Illinois, The Chicago Community Trust and West Town Bikes are working to support the city's youth. In November, West Town Bikes fed over 200 households with children in Chicago's West Side with the help of The Full Plate Project. This initiative will promote a healthier and more socially conscious West Side while transforming young people into community leaders during the most challenging Thanksgiving to date.
Ready to make an impact?
Your donation to The Full Plate Project has the power to make a difference for families and children facing hunger and food insecurity this holiday season. For children in need, this work is critical and provides a sense of comfort and hope during this year of uncertainty.
Get on the list. Sign up for updates.
Don't Miss Out!
Sign up for the latest Red Nose Day news and updates.