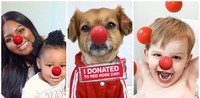 The Week in Noses: Digital Get Down
We asked our Red Nose Day supporters to get their #NosesOn and boy, they did NOT disappoint.
From digital Red Nose selfies (which, by the way, you can unlock your very own filter here), to virtual fundraisers, and four-legged philanthropists, we're inspired by your creativity and commitment to the cause.
All we're saying is, you guys out there are CRUSHING it. As a huge thank you, we're highlighting some of our favorite moments from the week. If you get inspired after reading this, be sure to tag us in your photos using @RedNoseDayUSA and #NosesOn.
Oh and one more thing before we get started. The Red Nose Day Special airs Thursday, May 21 on NBC so be sure to tune-in for a night of fun, music, and impact. Ok, let's look at some of our favorite moments, shall we?
(Digital) #NosesOn
Even though things look a little different this year, there's one thing that remains the same: the incredible creativity of Red Nose Nation. We love to see it!
1. We are family
These fans are using the time at home to make giving back a family affair. Want to do even more? Check out the Red Nose Day Joke-Ha-Thon.
Twinning in Texas

Looking silly for a good cause

Red Nose get down

2. With a little help from our four-legged friends
Red Nose Day fans come in all shapes, sizes, and breeds. Thanks to these paw-fect pets for helping spread the word!
Is this a cloud or a dog?

2x the huskies, 2x the fun

#1 Red Nose Day supporter we wanna smoosh

3. Show off those wrists
Well, maybe just the hands of the friends or family you live with. Even though the iconic Red Nose has gone digital this year, you can still pick up Red Nose Day wristbands at your local Walgreens. Just take a look at how these supporters are putting their hands together to help children living in poverty.

We love a Red Nose Day fist bump

All that glitters is a Red Nose Day bracelet

Beachin' Red Nose Day


Virtually anyone can fundraise
Just look at how these supporters brought their fundraisers online.
1. Virtual Bake Sale
While holding an IRL bake sale might be off the table right now, this family wanted to keep the tradition alive by opting for a "virtual" bake sale instead. When someone donated, the family would eat a cookie in their honor and give them a shout-out on Facebook. Very clever!
2. Iron Chef Quarantine
These Walgreens co-workers are taking fundraising to the next level by holding an Iron Chef Quarantine, complete with actual Iron Chef America Judge Mario Rizzotti. The whole thing is happening via a company-wide video conference, and with over $2K raised, we can't wait to see the results.


P.S. Have you seen our Zoom backgrounds?
Use these and there's a 100% chance you'll be the hit of your conference call. Or virtual birthday party. Or wedding. Whatever works!

Thank you, Red Nose Nation, for showcasing your support and helping end child poverty – one (digital) nose at a time.
Children need your help now.
The impact of the COVID-19 crisis threatens children living in poverty in an unprecedented way. Your gift to Red Nose Day supports our efforts to keep children safe, healthy, and educated in the face of the Coronavirus pandemic.