Today We're Celebrating Some Very Nose-y Teachers
We think teachers deserve to be celebrated every day, but we wanted to share some very special teachers in the nose.
These educators are bringing Red Nose Day into their classrooms and schools, and they're making a difference for their students while impacting the lives of children around the world.
You're never too young to start fostering empathy in the classroom, and educator Lauren Grace used Red Nose Day's lesson plans to bring up tough topics with her young students. "These materials do a nice job of framing the issues of poverty in a context that kids can take action on," she says, and you can find teaching empathy activities with our 2019 classroom resources.
Educator Tracy Kooy turned a small classroom fundraiser into a school-wide Red Nose Day extravaganza. It all started with a box of noses and now students, parents, and teachers are on board to raise money for children in need.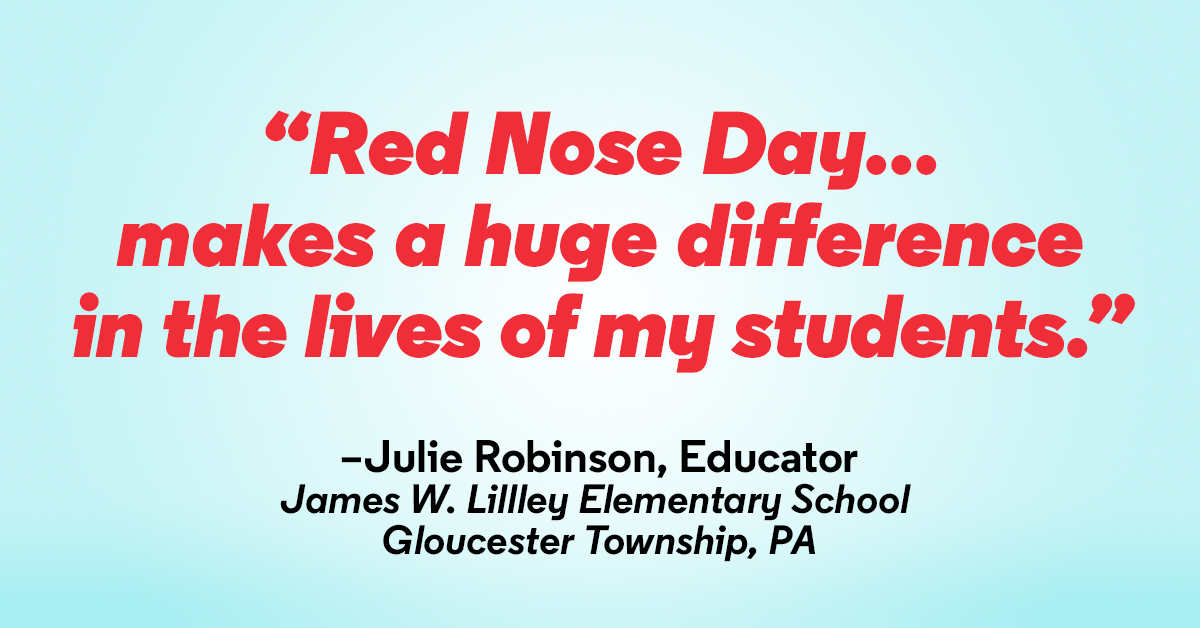 The truth is that no Red Nose Day fundraiser is too small. Every dollar makes a difference and, just as importantly, fundraising at school fosters fun and creativity in the classroom. Julie Robinson, who teaches at James W. Lillley Elementary School in Gloucester Township, PA, knows that small steps can go a long way. "Our Red Nose Day, though small, makes a huge difference in the lives of my students and ultimately the world around them."
Fundraisers remind students that the best way to achieve a goal is to come together. We have all the tools and resources you need and the fundraising ideas for kids.
"I love watching the children put money in our classroom envelope every day," says Jodi Zambell of East Hills Elementary in Roslyn, NY. "We are a district where some have a lot and some really don't, but everyone gives what they can and it just brings us all together!"
That attitude is why every week should be National Teacher Appreciation Week.
Feeling inspired? You can find school fundraising ideas here.