The Surprising Way Oral Care Fights Child Poverty
Proper dental care is not only crucial to fighting cavities, it's crucial to fighting child poverty. Why? Because poor oral health can be at the root of many problems.
So, to celebrate National Dental Health Month, we're shining a spotlight on a Red Nose Day program with partner UnidosUS that's worth smiling about—the Healthy and Ready for the Future program.
Let's take a look at the issue.
When it comes to oral health, there's a lot more at stake than just a nice smile. It can be hard to concentrate in school, socialize, or speak if your teeth hurt. It could lead to missing school days, low self-esteem, and even to an unbalanced diet.
In the United States, 60% of children will have at least one cavity by age 5. And that number is even higher in areas of concentrated poverty. While a number of programs exist to help children's dental health in many urban areas, rural areas often have less access to dental providers due to transportation issues. And yet, that's often where the need is greatest.
This is especially pronounced in low-income communities where seasonal and migrant farm workers live. 30% of the children of migrant and seasonal farm workers are living below the poverty line—that's twice the national rate. And so, their risk of tooth decay is higher than average, too.
That's where Red Nose Day comes in.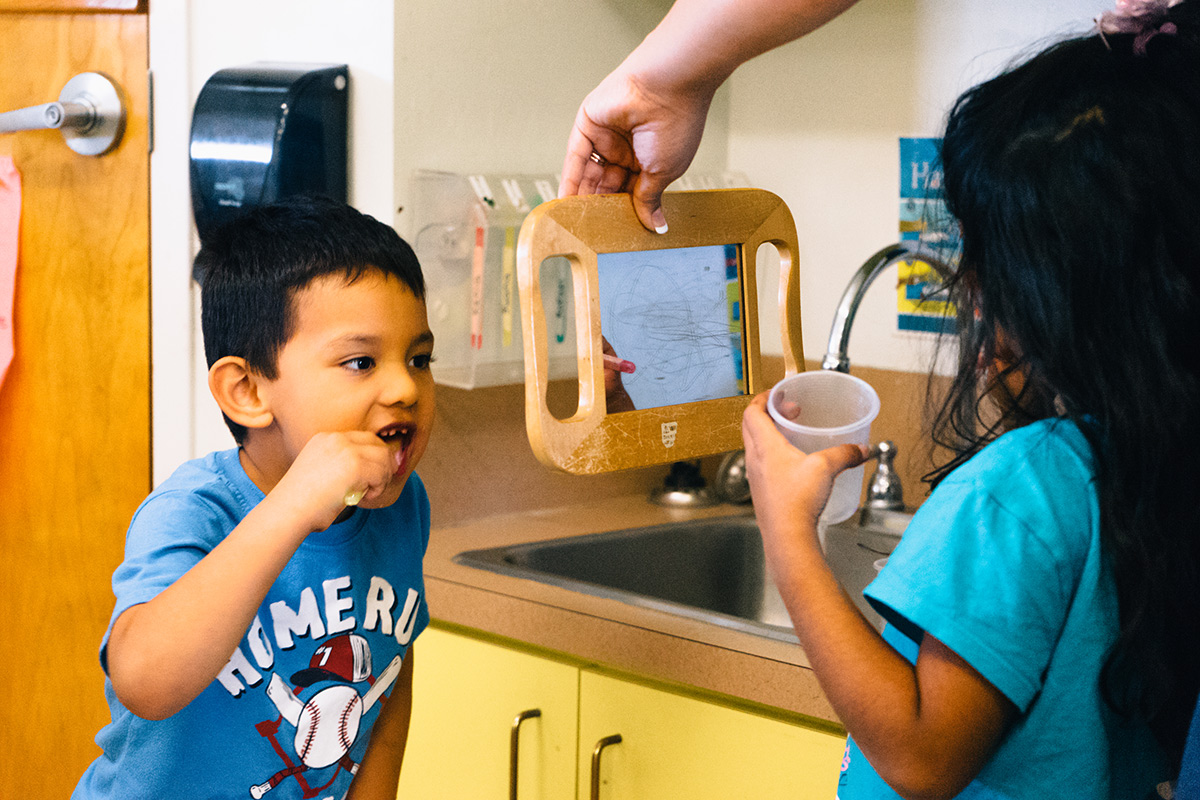 Thanks to funding raised through Red Nose Day, Grantee Partner UnidosUS has served more than 40,000 children (and created even more smiles) in 60 rural communities across Arizona, California, Florida, Texas, and Washington. All in just two years. And this year, the program is adding emotional and social wellbeing screenings and follow-up to better connect the children they serve with the services they need.

The program serves children ages 2 to 17 whose parents are migrant farm workers. 76% of these migrant and seasonal farm workers are Latino. Migrant and seasonal workers face many challenges to accessing health care including limited English proficiency, a lack of health care or means to pay for services and concerns about losing paid work. As the largest Latino civil rights organization in the country, UnidosUS, through a cohort of community-based organizations and community health centers within its network of Affiliates, provides bilingual checkups and culturally sensitive and language appropriate oral health education workshops that would make the Tooth Fairy proud.
These workshops help parents like Yesenia.
Yesenia thought she was on top of her children's health care with consistent visits to the doctor and health insurance coverage. But a Healthy and Ready for the Future workshop helped her realize how important child dental care was – and by speaking with community health workers at the event, Yesenia was able to schedule dental appointments to keep her boys (and their teeth) healthy.
Together, Red Nose Day and UnidosUS are not only making an impact in these kids' lives, they're giving them a reason to laugh and flash those pearly whites.
Get on the list. Sign up for updates.
Don't Miss Out!
Sign up for the latest Red Nose Day news and updates.