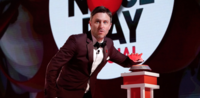 Our Fav Moments From the Biggest Red Nose Day Ever
Red Nose Day 2018 is a wrap! And it was epic. Thanks to you, we had the biggest Red Nose Day ever. The live celebration on NBC just ended on both coasts, and we're still reliving the highlights.
That's not a typo. During the course of the NBC broadcast, our fundraising totals reached $42,126,438 for children in need, which is money that will benefit kids in America and around the world.
And that powerful number came with plenty of star-studded action.
Like when Ne-Yo absolutely rocked the course for Celebrity Ninja Warrior for Red Nose Day.
And all of America did a collective backflip.
Next up was an absolutely charming special edition of Hollywood Game Night. Jack Black brought the rock.
And Kelly Clarkson brought the soul.
All that led up to The Red Nose Day Special, hosted by emcee extraordinaire Chris Hardwick.
Best of all, America came together for the fourth year in a row to raise money for children in need. And boy did they bring their energy and their generosity.
Thank you so much for tuning in, and if you missed the fun on NBC, you can tune in to our social channels to watch the highlights.
Even as another Red Nose Day comes to a close, our mission to help end child poverty has just begun. As always, and here's to next year: Noses On!  
Get on the list. Sign up for updates.
Don't Miss Out!
Sign up for the latest Red Nose Day news and updates.