This Mobile Clinic is Like Tetris Meets a Hospital, and It's Going to Blow Your Mind
Children's health Fund mobile health clinic takes a Red Nose Day journey across America to keep vulnerable kids healthy. 
It's finally here, just in time for Red Nose Day! The newest Children's Health Fund mobile health clinic just arrived in Las Vegas, ready to work with Nevada Health Centers to keep vulnerable children healthy.
And it's all because of you. Your support for Red Nose Day made this journey possible.
The traveling doctor's office is truly incredible. It's a fully operational mobile clinic.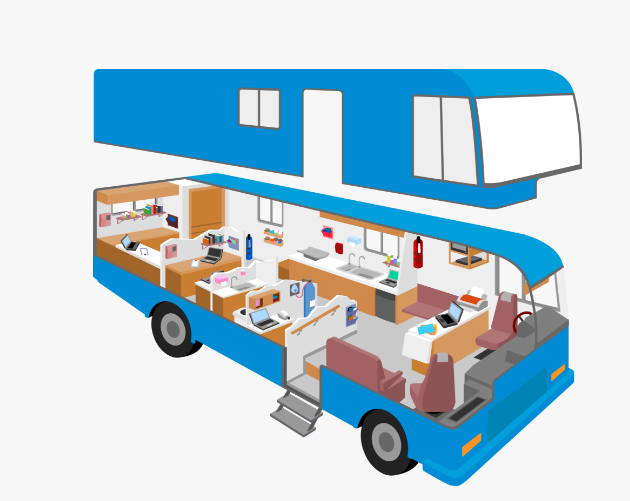 There are state-of-the-art examination rooms, comfy waiting areas, nurse stations, and a room for medical procedures. Because it's all completely mobile, it's able to reach homeless young people and children living in poverty.
After departing Ohio, this portable doctor's office set off for its final destination: Nevada, 2,000 miles away.
Whether because of geography or poverty, many children across America don't have access to quality health care.
Mobile health units like this one bridge that gap by traveling to the children who need them. For some, it will be their first ever visit to the doctor.
As the clinic headed from the midwest to Nevada, Dr. Randy Christensten, the doctor behind the wheel, kept meeting people who have been positively impacted by Red Nose Day.
While in Texas and New Mexico, Dr. Randy stopped at the Rattlesnake Museum to talk a little bit about Red Nose Day's strategy when it comes to helping kids.
Along with health programs like Children's Health Fund, we also support educational programs, and food banks.
Standin' on a corner in Winslow, Arizona, Dr. Randy reflects on the awesome journey the Mobile Health Unit has taken from Columbus, Ohio to Las Vegas, Nevada.
Now that the mobile health clinic has arrived in Nevada, it's ready to deliver quality care to children in this frontier state. 19% of children in Nevada live in poverty, and this doctor's office on wheels will bring them check-ups, eye exams, and so much more.
That's something to celebrate. When you donate to Red Nose Day, your money supports programs like this one by Children's Health Fund. Providing quality health care to children is an important part of ending the cycle of poverty. Noses On!
Get on the list. Sign up for updates.
Don't Miss Out!
Sign up for the latest Red Nose Day news and updates.