Mind the Gap: How Your Donations Are Bridging the Education Gap
A quality education can open up a world of opportunities for all children, especially those living in poverty. Unfortunately, millions of children around the world face challenges that prevent them from getting a quality education. Globally, even before the COVID-19 outbreak, 258 million children and adolescents of school age were not enrolled in school. The pandemic has now disrupted education around the world, impacting over 1 billion students.
This is why we need to Mind the Gap. This month, we're shining a light on how poverty and inequity impact a child's ability to succeed. We believe education is essential, and since 2015 we've supported programs that help bridge the education gap for students most in need.
Explore the stories below to learn more about how Red Nose Day helps children get an education:
Focusing on Early Childhood Education
Studies have shown that high-quality early education can greatly improve a child's academic success, including graduation rates. With your donations, Red Nose Day is funding programs that help meet the educational needs of children in poverty, including before kindergarten when interventions could be the most effective.
To overcome the effects of poverty caused by low-literacy, we've been able to partner with Ounce of Prevention to provide high-quality early childhood education programs for children and families from low-income homes. With your support, we're able to level the playing field so that kids can come to elementary school ready to learn.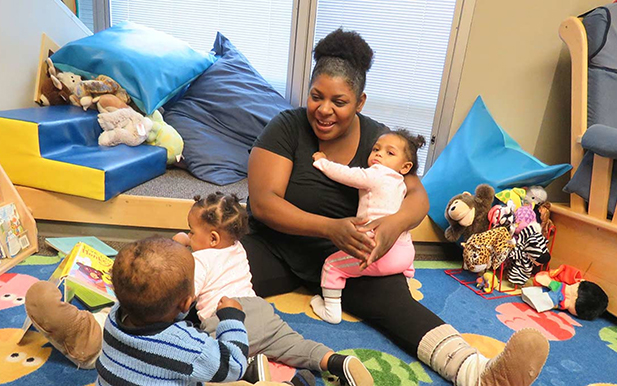 Mentoring Children for Life
All kids have the potential to succeed. But for the more than 10 million kids living in poverty in the United States, getting to school ready to learn each day is a challenge. They need support, but often schools in high-need communities aren't designed or resourced to provide it.
Red Nose Day partners with City Year in 20 high-need communities across the country to fund a program that connects members, aged 18 - 25, with at-risk youth at high-need schools, elementary through high school. These members provide academic and social-emotional support while sharing resources that help boost student learning and achievement, helping to keep them on track to graduate.
Boosting Literacy
Low early literacy and illiteracy are challenges that stem from early childhood and have a long-lasting impact throughout adulthood. In fact, kids who aren't successfully reading at grade level by third grade are four times less likely to finish high school.
With your support, we're helping students get up-to-speed with their reading. For instance, with our partner Save the Children, your donations are bringing in-school programming to boost literacy growth to children who need it most.
In Bangladesh, Red Nose Day partners with Room to Read to provide students with remote learning activities and support, including read-aloud videos to support literacy.
Equal Access to Education
Investing in girls' futures is one of the smartest things we can do. Around the world, girls still do not have the same educational opportunities. Your support helps our partners ensure girls have the opportunity to thrive through access and support.
In Kenya, where some regions see as little as 19% of girls enrolled in school, Red Nose Day is supporting education programs that help girls get back on track with their education while building confidence and self-esteem.
Take a look at Agnes' story:
In challenging times like these, we must work together to help bridge the divide so that every child has the opportunity to reach their potential.
Get on the list. Sign up for updates.
Don't Miss Out!
Sign up for the latest Red Nose Day news and updates.