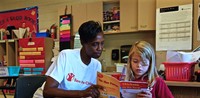 Gaining Confidence through Literacy
Typically sporting a shy smile, 8-year-old Katlynn is beaming with pride this morning, not even thinking about hiding her pearly whites from view.
"I got one hundred!" the second-grader exclaimed to those within earshot following her reading quiz.
From a small rural town of less than 1,000 in central South Carolina, Katlynn lives in a state where 35 percent of fourth graders do not meet basic reading level expectations.
Katlynn too once struggled with reading, falling well below her classmates in kindergarten and part of first grade. When trying to read at home, she used to give up, asking her mom Terri to tell her the words as they went.
Once 18 months behind her peers in reading, Katlynn is now reading at grade level with the help of Red Nose Day. With your donations, kids like Katlynn have access to in-school programming through grantee partner Save the Children, which boosts literacy growth through guided independent reading practice, comprehension-building book talks and reading quizzes.
"She's come a long way," Terri said. "She made the honor roll last year."
Terri said her daughter's performance in math, science and social studies has seen great improvement as well, with reading comprehension becoming essential to understanding those subjects.
Katlynn is also using her reading skills to try to overcome one of her fears, her mom said. The second-grader is afraid of frogs, and her brothers – as brothers tend to do – regularly torment her with anything that croaks at the creek near their home.
"She's reading more about frogs, so she's not scared of them," Terri said.
A mother of five, Terri's children have been in Save the Children's early childhood programs for nearly a decade. It's a rare family resource in their town, which grapples with poverty and unemployment, and the experience has inspired Terri to get her accounting degree.
"I've always wanted to go back to school, but Save the Children has taught me I can."
It's still a bit early for Katlynn to decide her future career, but right now she wants to be a teacher, helping kids learn as her teachers have helped her.
"I want her to be a lifetime learner. I hope she achieves all her dreams, and goes as far as she wants to go," Terri said. "Books can take you anywhere."
Books have already helped Katlynn start to get over her fears and forced a smile a mile wide from accomplishment. And she's just getting warmed up.
Photo courtesy of Save the Children.